Discover 5 tips to treat colds quickly and effectively. There are several methods, learn to put them into practice: 
 
We support our immune system by adopting healthy habits: a healthy diet, physical exercise, enough sleep, quitting smoking, moderate alcohol consumption.
Wash your hands frequently 
Hands should be washed frequently to prevent the transmission of bacteria! 
Hygiene is essential and will allow you to reduce the risk of your cold settling in. 
Little or no physical contact
Don't forget to cough and sneeze into the hollow of your elbow or into a tissue and try to avoid contact with infected people. Stay home and rest, in addition to promoting your general well-being, you will avoid transmitting the virus; stay home and rest, you will promote your general well-being.
Adopt appropriate medical treatment
On the treatment side, we rest and drink a lot of water to avoid dehydration and to liquefy our secretions. To clear the nasal cavity and relieve congestion and discharge, a saline solution is sprayed. If necessary, steam (hot or cold) is inhaled to clear the airways of mucus. If you think you may have an infection, go to your nearest doctor or pharmacy.
Prevent colds through natural medicine
There are more than 200 cold viruses ready to infect us... No wonder we are constantly looking for ways to prevent it and, when it strikes us, to reduce its intensity and duration!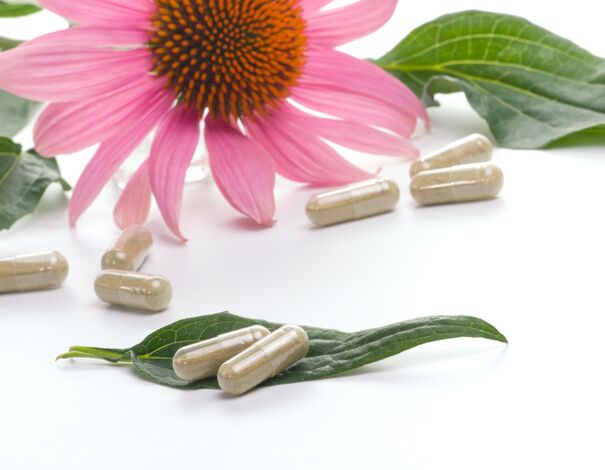 Natural treatment recognized: Echinacea

Echinacea has long been used by Native Americans to treat a variety of health problems, including respiratory infections. Known for its ability to stimulate the immune system's response, Echinacea is still a natural health product designed to prevent colds and reduce their duration and symptoms.
As the old saying goes: A cured cold lasts seven days, while an untreated cold lasts a week... So, you have to be patient!
Some studies seem to clearly demonstrate the efficacy of echinacea, while others seem less conclusive. One reason for this is that not all studies use the same species or parts of echinacea. However, it seems that purple echinacea (echinacea purpurea) is the most effective for treating colds. In addition, preparations made from fresh echinacea would contain even more active ingredients than those made with dried plants.
Any contraindications?
 
As with prescription and non-prescription drugs, caution should be exercised when using natural health products or supplements. Our family pharmacist is the ideal health professional to advise us on this matter, so we don't hesitate to consult him!
Until then, care is taken to ensure that the natural health product you wish to purchase, in this case echinacea:
Bears the Natural Product Number (NPN), which certifies that it has been approved by Health Canada;
Does not interact with our medications;
Does not have any contraindications related to our health status. For example, Echinacea should not be used when suffering from: asthma or allergies to plants in the Asteraceae family (sunflower, ragweed, chrysanthemum, daisies, etc.) or an immune system disorder or autoimmune disease (multiple sclerosis, collagenosis, lupus, rheumatoid arthritis, etc.), tuberculosis or AIDS.
Some echinacea preparations may not be suitable for pregnant or lactating women. Ask your family pharmacist before using it.  
It is also recommended not to take Echinacea for more than eight consecutive weeks in order to avoid reducing the effectiveness of the treatment and to avoid depleting the immune system.
Pharmacy services
If you have any further questions about echinacea or colds, do not hesitate to consult your family pharmacist. He is there for you!