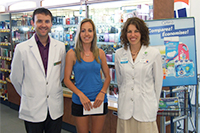 Marie-Pier Fontaine Bombardier is the grand winner of the contest Option+ À vous de choisir. The young Valcourt resident will fly to the destination of her choice thanks to the prize she won: a travel voucher worth $10,000.
The contest saw several other happy winners, as 237 iPad Minis were presented as secondary prizes. 100 Uniprix gift cards worth $50 each, were also awarded as part of a Facebook portion.
The contest Option+ À vous de choisir was created to highlight the 25th anniversary of the Option+ exclusive Uniprix brand. From May 16 to June 12, 2013, any purchase of an eligible Option+ product gave you a chance to win. The draw took place on July 4.
Ms. Fontaine Bombardier is photographed here with pharmacists/owners Philippe Tourigny and Geneviève Breton of the Uniprix branch on Galt street West in Sherbrooke, where she made her purchases.