Rouge fm Tour coming to your local Uniprix!
Start date: October 26, 2015
End date: November 13, 2015
Drawing date: November 13, 2015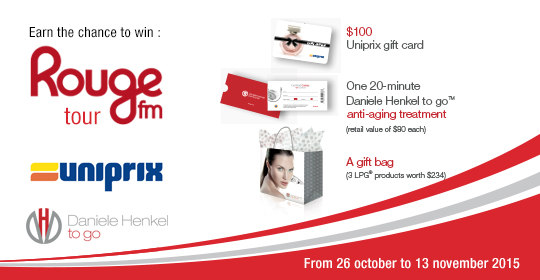 From October 26 to November 13, Rouge fm invites you to discover the anti-aging treatments offered in Daniele Henkel to goTM spaces exclusively at Uniprix! Join us for a lively evening and a chance to win one of the many prizes up for grabs!
Come and meet the Rouge fm team at participating Uniprix stores, fill out the entry ballot and you could win one of the following prizes:
A $100 Uniprix gift card
One of two 20-minute EndermoliftTM anti-aging treatments (a value of $80 each)
A gift bag (3 LPG® products, a value of $234)
That's almost $500 in prizes per store! 
Plus, sign up now at www.rougefm.ca and earn the chance to win one of three grand prizes worth nearly $2,000 each.
Each grand prize includes a $500 Uniprix gift card, a 300-minute package of EndermoliftTM anti-aging treatments and a gift bag of LPG® products.
For full contest details and rules, go to www.rougefm.ca.
 
Participating stores and event dates
The Rouge fm Tour will be stopping by 33 Uniprix stores between October 26 and November 13 from 4 p.m. to 7 p.m.
Sector
Uniprix
Address
City
Rouge fm Tour Date
Winners
Montréal
J.-P. Paré and M.-C. Hamelin
520, rue d'Avaugour, suite 1000
Boucherville
Oct-26
Marie-Claude Deschamps 
Julie Bertrand 
Réjeanne Tremblay  
Lyne Roy
Montréal
François P. Turgeon
1, boul. Samson  
 Laval
Oct-29
Tina Gallaher 
François Pichette 
Bruno Robert 
Kristell Barbotin 
Montréal
Jean-Pierre Bois and François Dupuis
880, montée Masson
Mascouche
Oct-28
Estelle Bélec
Manon Lépine 
Karine Martin
Geneviève St-Germain
Montréal
Anne-Catherine McDuff
5375, boul. Grande Allée
Brossard
Nov-04
Lynda Brochu
Joanne Blanchette
Kristel Boucher 
Éric Poueme
Montréal
Vincent Roy and Amel Lahreche
13170, rue Sherbrooke Est
Montréal
Nov-02
Christiane Blanchette
France Bourget
Line Roberge
Geneviève DeLasablonnière
Montréal
Fortin M.-A. and Cloutier M.-É.
466, boul. Sir Wilfrid-Laurier
Mont-Saint-Hilaire
Nov-05
Diane Barbeau
Nathalie Perron
Maryse Nolin
Chantal Côté
Montréal
Stéphane Morin
9235, boul. Lacordaire
Montréal
Nov-12
Françoise Linteau
Amanda Ficara
Josée Bouchard
Sylvie Bernier
Montréal
Sylvie Delisle
358, boul. Grande Côte
Boisbriand
Nov-11
Caroline Corbeil
Joanne Dent
Simone Bonney
Brigitte Martel
Montréal
R. Champagne, J.-P. Bois & F. Dupuis
297, montée des Pionniers
Terrebonne
Nov-09
Josée Mailhot
Claire Lacombe
Elsa Monsché
Denis Nadeau
Estrie
De Laganière, Labranche, Chu et Pak
A101-82, boul. de Bromont
Bromont
Oct-27
Danielle Lacroix 
Nathalie Lévesque
Virginie Ouellet
France Tremblay
Estrie
Chemika Mamode
610, rue King Est
Sherbrooke
Oct-29
Madeleine Côté
Carole Després
Claudette Lapointe
Gaétanne Perron
Estrie
Isabelle Fauteux
1850, rue King est
Sherbrooke
Nov-03
Ginette Prévost
Ginette Fortier
Lucie Beaudoin
Marie-Claude Beaulieu
Estrie
B. Lemaire, A. Lamontagne and S. Moffet
904, rue Principale Ouest
Magog
Nov-06
Sonia Archambault
Annie Bussière
Diane Cyr
Jessica Marlon
Estrie
Isabelle Dupont
338, rue Saint-Jacques
Granby
Nov-10
Mélanie Cool
Magali Côté
Francine Gagnon
Danielle Guay
Estrie
Geneviève Breton and Philippe Tourigny
2235, rue Galt Ouest
Sherbrooke
Nov-12
Brigitte Dulac
Jeanne Dubois
Myra Poulin
Fernande Longpré
Québec
Jacques Déchêne
905, boul. René-Lévesque Ouest
Québec
Oct-27
Diane Desnoyers
Diane Fortier
Anne Lessard
Lucie Plourde
Québec
Martin Graham
3440, ch. des Quatre Bourgeois
Québec
Oct-30
Jeannine Aubin
Johanne Marceau
Lucie Demers
Joanne Pichette
Québec
M.-E. Bolduc, A. Robert and G. Larose
1830, avenue Industrielle
Quebec City
Nov-02
Sylvie Charbonneau
Chantal Amyot
Johanne Alain
Ghislaine Boucher
Québec
Line Payeur and Catherine Moreau
12-912, avenue Taniata
St-Jean-Chrysostome
Nov-05
Monique Maheux
Charlotte Mercier
Marcellyne Dubois
Louise Couillard
Québec
Manon Gosselin and Bernard Bérubé
1285, rue du Pont
Saint-Lambert-de-Lauzon
Nov-10
Jacinthe April
Carmen Labonté
Caroline Grégoire
Yolande Turmel
Québec
M.-O. Girard and F. Lahoud
811, Route Jean-Gauvin
Quebec City
Nov-12
Linda Gagné
Linda Paquet
Annie Gilbert
Carole Blais
Saguenay
S. Bouchard, L. Gagnon and C. Mihelich
3751, boul. du Royaume 
Jonquière
Oct-28
Anick Duchesne
Marie-Chantale Maltais
Julie Morin
Carmelle Caron
Saguenay
Daniel Guay and Julie Beaupré
1221, boul. Marcotte
Roberval
Nov-05
Martine Simard
Nathalie Dumais
Jacinthe Lavoie
Hélène Leclerc
Saguenay
D. Perron and K. Girard
711, boul. Sainte-Geneviève
Chicoutimi
Nov-10
Ginette Godin-Girard
Marie-Pier Gagné
Denise Girard
Cathy Boivin
Drummondville
I. Mallette and J.-Y. Perreault
7, rue de l'Aqueduc
Victoriaville
Nov-03
Carole Cloutier
Hélène Dupont
Lucie Guillemette
Marie-France Labrie
Drummondville
P. Gilbert, D. Gobeil and P. Martel
511, rue Hériot 
Drummondville
Nov-10
Louise Bissonnette
Julie Fontaine
Nathalie Fournier
Joanne Labonté
Gatineau
Danyel Dessureault and Martin Beaucage
914, rue Maloney Est
Gatineau
Oct-29
Francine Labelle
Gilles Morin
Nathalie Léger
Gisèle Loyer
Gatineau
N. Côté, E. Charbonneau and D. Savoie
620, avenue de Buckingham
Gatineau
Nov-02
Christine St-Germain
Lyne Morin
Ginette Chalifoux
Sannie Mailloux
Gatineau
Samy Adjaoud
210, chemin d'Aylmer
Gatineau
Nov-09
Violette Chaperon
Kemfack Domgmo Silvianmé
Malika Nechioui
Suzanne Deschênes
Trois-Rivières
M. Dontigny J. St-Arnaud O.Bourgouin
400-2000 boul. Louis-Fréchette
Nicolet
Oct-29
Nancy Meunier
Camille Oman
Hélène Levasseur
Marie Huot
Trois-Rivières
Julie Houle and Yves Bordeleau
12-4520, boul. des Récollets
Trois-Rivières
Oct-27
Louise Morin
Jessica Imbeault
Maryse Désilets
Nathalie Nadeau
Trois-Rivières
Marc Dontigny
701, boul. Thibeau
Trois-Rivières
Nov-03
Christiane Boulanger
Hélène Deveault
Suzanne Doyon
Isabelle Lacroix
Trois-Rivières
Marc Dontigny
4400, Côte Rosemont
Trois-Rivières
Nov-10
Jocelyne Bournival
Suzanne Dallaire
Diane Filteau
Marie-Andrée Pintal
The winnners of the contest are :
France Darveau from Sainte-Therese
Julie Aubert from Charny
Christine Topping from Sherbrooke
The contest is now closed!
View rules