A word from the President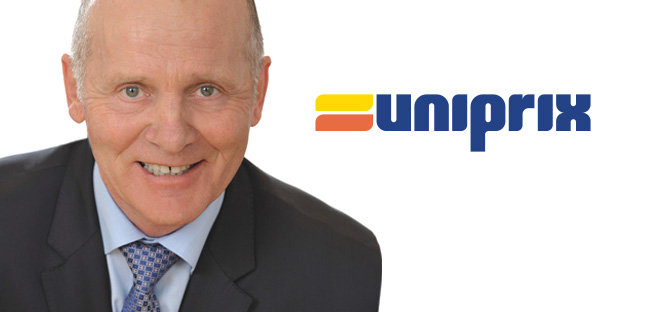 In 1977, pharmacists from across Quebec came together to cluster their services and, in the process, made a name for themselves among consumers in a rapidly changing market.
To this day, the relevance of this group remains clear.
The founders, a few of whom are still with us today, were joined by a growing number of pharmacists of all ages, but particularly younger ones. You will find them standing behind their counters, ready to listen to their clients and dedicated to offering them the most accurate, up-to-date information in partnership with other health professionals. They are YOUR family pharmacists! 
The Uniprix Group brings together three banners – Uniprix, Uniprix Clinique and Uniprix Santé – each meeting the needs of a specific market. Together, our shareholders represent the largest affiliation of independent pharmacists in Quebec. 
I invite you to explore our wonderful Website and, of course, drop by your local Uniprix store.
Philippe Duval
President and CEO
president@uniprix.com
---
History and mission
True to our promise of being there for you!

When a group of independent pharmacists decided to come together under one banner in 1977, their goal was to strengthen their purchasing power without giving up their autonomy. And that's what they achieved, remaining full owners of their respective establishments.
Now, more than 30 years later, these pioneers and the other pharmacists who later joined them are still motivated by the same ambition: to offer the best service available. What's more, they now can depend on the expertise of professionals at the Uniprix Group head office. While ensuring the growth of the company, this new partnership unites the strength of all parties involved, allowing the head office and pharmacist-owners to fulfil their central goal, that of being there for you.
The largest groups of independent pharmacists in Quebec
With annual sales reaching more than $1.6 billion, the Uniprix Group – and its banners Uniprix, Uniprix Santé and Uniprix Clinique – employs some 4,000 employees in over 375 pharmacies located in all four corners of the province. This makes it the second largest retail pharmacy chain in Quebec, not to mention the largest group of independent pharmacists in the province.
Uniprix, good for you!
In recent years, thanks to powerful advertising campaigns, Uniprix has positioned itself well in a competitive and constantly evolving market. Its message: health professionals concerned for your well-being are standing by to listen to your needs. With service at the heart of our pharmacist-owners' mission, they'll be more than happy to serve you!
Our mission
"to be a family neighbourhood pharmacist by offering products, professional, personalized health and beauty services at competitive prices for the wellness of their clients, all in a friendly atmosphere"